Skip Navigation
Website Accessibility
Tutto Machine on Wheels
Tutto offers incredible sewing machine totes on wheels that will make traveling with your machine a breeze. They come in many different colors to suit your personality and fold flat for easy storage between road trips.
These great totes have top and side openings for easy loading and unloading. We offer sizes that can fit most any sewing machine or serger. Please see the size chart at our store for compatibility.
Check out Tutto's new serger totes - they come in two sizes to fit all makes and models.
Koala Studios Authorized Dealer
We love our beautiful Koala Cabinets! This made in America furniture offers outstanding craftsmanship, a wide assortment of sizes and styles and a quality product. Stop by to see them in person, we have several styles on our sales floor and samples of all the wood finishes available. Pick up a brochure from us, or visit Koala's website and have fun with their on-line room planner. We offer discounted pricing on all the Koala furniture and accessories, and special Top-Drawer delivery service. www.sewingandcraftclub.com/
Cutting Tables from Tailormade
This is the perfec
t Cutting table for you!
Providing a large 39.5" X 71" cutting area. This table is built at the perfect standing height at 35" reduing back fatigue caused by bending. The work area is ergonomic
ally designed and supported by four foldout doors positioned magnetically, making the work area much more stable than other foldout tables. The work area can easily fold away for storage when not in use. There are available in white and oak finish.These are the cutting tables we use at the store and are thrilled with how sturdy and durable they are! Stop by and let us show you the colors and all the storage areas.
Legacy Batting
We love our batting for it's outstanding quality and very reasonable price. We have a large variety of batting types for your every quilting need. We have 100% cotton in 96" & 120" by the bolt and in packages. We also carry 80/20, wool, bamboo and soy blends.Stop by and check out all of the great choices.
The Legacy 80/20 Blend allows stitched areas up to 4 inches and coming 96 inches wrapped on a standard fabric bolt makes it easy for us to cut and you to use. No more worrying about getting the wrinkles out of your packaged batting.
Legacy 80/20 Blend batting has a soft loft creating less resistance when hand quilting and a soft quilted appearance by hand and machine both.
Iris Machine Embroidery Threads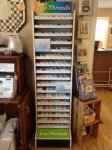 Hilos Iris has developed a Trilobal Polyester thread which is sold under the brand name of Polyseda Iris. It is mainly used in high speed computerized embroidery machines, having a very uniform and controlled lubrication, which results in the formation of a very even embroidery. Due to its tenacity and low stretching quality, ruptures are notably reduced thus increasing productivity of the embroiderers.
Polyseda Iris Thread is resistant to high temperature ironing, caustic detergent, and heavy chlorine wash. It also resists abrasive agents and has excellent resistance when exposed to light and sea water. The high quality of the thread allows it to be used to embroider leather, monograms, high quality decorations and other applications for Sport clothing, shoes, caps and emblems. For Uniforms and any kind of industrial clothing embroidery that require lustrous shine and can support strong detergent and bleach.
No Ironing!
Mary Ellen's I Hate Ironing! Is the fast alternative to pulling out the old ironing board. Spray It On and Watch Wrinkles Disappear!
14" Zippers in lots of fun colors
These 14" zippers from Atkinson Designs can be easily trimmed to any size. There are 36 great
colors, and they retail for only $1.10 each!